Prophecies about the man of sin a.k.a the antichrist
Let no man deceive you by any means: for that day shall not come, except there come a falling away first, and that man of sin be revealed, the son of perdition; Who opposeth and exalteth himself above all that is called God, or that is worshipped; so that he as God sitteth in the temple of God, shewing himself that he is God. (2 Thessalonians 2:3-4)
And it was the preparation of the passover, and about the sixth hour: and he saith unto the Jews, Behold your King! But they cried out, Away with him, away with him, crucify him. Pilate saith unto them, Shall I crucify your King? The chief priests answered, We have no king but Caesar. [John 19:14-15]
I am come in my Father's name, and ye receive me not: if another shall come in his own name, him ye will receive. [John 5:43]
Is it lawful for us to give tribute unto Caesar, or no? But he perceived their craftiness, and said unto them, Why tempt ye me? Shew me a penny. Whose image and superscription hath it? They answered and said, Caesar's. And he said unto them, Render therefore unto Caesar the things which be Caesar's, and unto God the things which be God's. [Luke 20:22-25]
And Jesus answered him, The first of all the commandments is, Hear, O Israel; The Lord our God is one Lord: [Mark 12:29]
For such are false apostles, deceitful workers, transforming themselves into the apostles of Christ. And no marvel; for Satan himself is transformed into an angel of light. Therefore it is no great thing if his ministers also be transformed as the ministers of righteousness; whose end shall be according to their works. (2 Corinthians 11:13-15)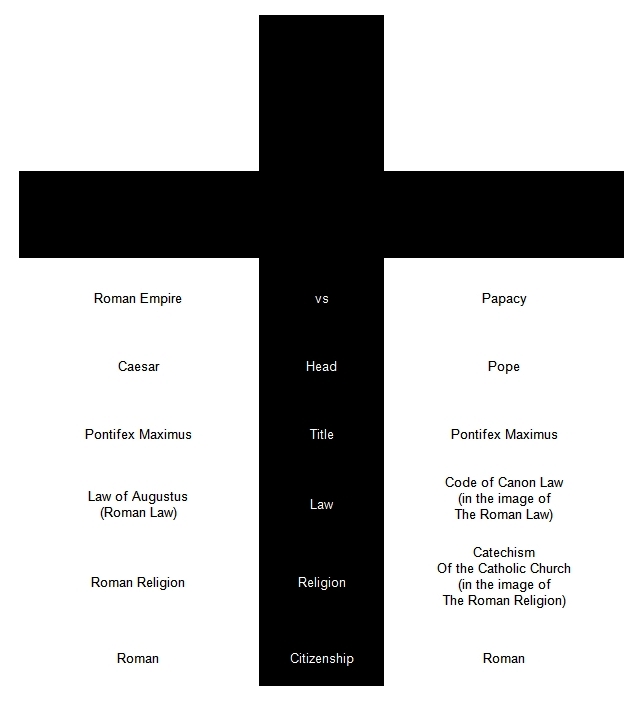 He professes himself to be a Christian in such a way as the devil often feigns himself to be Christ, as the Lord Himself forewarns us, and says, "Many shall come in my name, saying, I am Christ, and shall deceive many." As he is not Christ, although he deceives in respect of the name; so neither can he appear as a Christian who does not abide in the truth of His Gospel and of faith.
Source: THE TREATISES OF CYPRIAN
We ought to remain in that Church which was founded by the Apostles and continues to this day. If ever you hear of any that are called Christians taking their name not from the Lord Jesus Christ, but from some other, for instance, Marcionites, Valentinians, Men of the mountain or the plain, you may be sure that you have there not the Church of Christ, but the synagogue of Antichrist. For the fact that they took their rise after the foundation of the Church is proof that they are those whose coming the Apostle foretold. And let them not flatter themselves if they think they have Scripture authority for their assertions, since the devil himself quoted Scripture, and the essence of the Scriptures is not the letter, but the meaning. Otherwise, if we follow the letter, we too can concoct a new dogma and assert that such persons as wear shoes and have two coats must not be received into the Church.
Dialogue Against the Luciferians (Jerome)